SafeMoon (SAFEMOON) is one of the most hyped cryptocurrencies in the market today. Launched in March 2021, the "DeFi token" has since climbed and fallen down the market cap rankings. It became the 33rd biggest crypto by market capitalization on May 11, when it hit an all-time high of $0.00001094 (according to CoinGecko). Since then, it has slipped down to 52nd, with its price now standing at $0.00000417.
Despite losing value, SafeMoon remains popular among investors. It has proven almost as popular as ethereum in Google searches, and rose above XRP in April and early May. It has also received vocal backing from prominent traders, such as Dave Portnoy.
I've never been more confident in my decision to back #SAFEMOON I had no clue all this hate and jealousy in #crypto existed. But as Reggie Jackson once said "fans don't boo nobodies". If people are this frightened of the #SAFEMOONARMY that means I picked the right one

— Dave Portnoy (@stoolpresidente) May 17, 2021
However, investors should treat SafeMoon with extreme caution. It remains a highly unproven altcoin with a number of glaring flaws. We list 10 ways it puts your money at risk.
1. SafeMoon doesn't have any utility
It may be several months old now, but still no one really knows what it is supposed to do. Safemoon describe the coin on its website as a "DeFi token," but this doesn't tell us much. Its 'whitepaper' is also laughably thin, describing only the coin's internal economics and nothing else.
It therefore seems that SafeMoon has designed its coin only to rise in price, and to have no wider use. This is fine for as long as it does rise in price. But if it falls, and if other altcoins offer better gains, it may collapse in a hurry.
2. SafeMoon penalises you for selling
While SAFEMOON is designed to rise in price, it charges holders for cashing out. If you sell your SAFEMOON, the SafeMoon protocol takes 10%. Half of this 10% goes to existing token holders holders. The contract also uses a quarter of the fee to 'sell into BNB,' according to the brief whitepaper. Basically, the owners of the contract use your sold SAFEMOON to buy Binance coin (BNB). They then pair the remaining quarter with the newly acquired BNB, adding both as a liquidity pair on PancakeSwap.
Safemoon intends this 10% fee to deter selling and to help SAFEMOON rise in price. But it's not clear what exactly happens to the 5% which goes towards BNB. Do the contract owners — i.e. Safemoon — keep all the proceeds from adding liquidity to PancakeSwap? If so, they're arguably profiting at the expense of SAFEMOON traders.
3. The protocol has a 'critically severe' issue related to safeguarding fees
DeFi security firm HashEx recently published an audit into the SafeMoon smart contract. It makes for some grim reading. Most notably, HashEx discovered two issues of "critical severity."
The first relates to a lack of "safeguards for fees," with the contract controlling fees (paid during SAFEMOON sales) being owned by an external account. According to HashEx, this means that if the owner of the smart contract were a bad actor, they could easily drain it of its accumulated fees. In other words, the fees you pay for selling SAFEMOON will end up lining someone else's pockets.
4. It has another critical issue related to ownership of its smart contract
HashEx identified another issue of critical severity. It found that the ownership of the SafeMoon smart contract can be temporarily renounced. This can create confusion among users, who may incorrectly think the contract has no owner. Ultimately, HashEx says it identifies "this behavior as fraudulent."
5. SafeMoon's contracts have a ton of other issues
In total, HashEx identified 12 issues affecting SafeMoon's smart contracts. Two of these are of critical severity, as described above. Another two are of high severity, with four being of medium and another four being of low severity.
A slew of critical vulnerabilities has recently been identified by the DeFi security provider #HashEx when examining the #SafeMoon #DeFi project. The identified issues are so severe that users are being warned to stay away from the protocol for fear of losing their funds. $SFM

— Weiss Crypto (@WeissCrypto) May 25, 2021
What's worse is that many of these issues can be exploited at the same time, greatly increasing the risk for investors that something will go badly wrong with SafeMoon. Here's what HashEx concluded in its report:
At the time of the audit, the owner of the token contract is set to an EOA account (externally owned account), which implies high risks for token holders as if the owner account is compromised an attacker can break the token functionality completely (for example, by blocking any transfer).
6. It runs on the Binance Smart Chain, which has had its own issues
SAFEMOON is a BEP-20 token, meaning it runs on Binance Smart Chain. In itself, there's nothing really wrong with this. However, BSC has suffered a number of issues recently across several of its platforms.
On May 20, malicious actors exploited bugs in BSC's PancakeBunny protocol, stealing some $45 million in BUNNY tokens.
1/6

Today, BUNNY tokens worth $1B+ were minted from Bunny Finance on BSC, resulting in $40M+ was stolen:

– 114k WBNB ($40M)
– 697k BUNNY

For this reason, the BUNNY price fell from $146 to $6pic.twitter.com/BBVfWOHgZH

— Igor Igamberdiev (@FrankResearcher) May 20, 2021
Likewise, likely manipulation of the Venus Protocol (XVS) price resulted in $200 million in liquidations on May 19.
1/9

Today we have witnessed the manipulation of XVS price —  the governance token of Venus Protocol on BSC.

This incident resulted in $200M+ DeFi liquidations and a $100M+ of protocol bad debt.

As usual, let's analyze this situation belowpic.twitter.com/pAnjqHI25T

— Igor Igamberdiev (@FrankResearcher) May 19, 2021
This doesn't necessarily affect SafeMoon. However, it suggests that the altcoin operates in a potentially uncertain environment. One which may result in traders losing money.
Binance smart chain #BSC broke today due to our volume. They are still having issues. This is not on us. Please be patient while BSC fixes their infrastructure.

— SafeMoon (@safemoon) April 20, 2021
7. SafeMoon has very low liquidity
SafeMoon has extremely low liquidity. It's such a small market that, if a big holder sells, its price is likely to fall steeply. For example, its price crashed by more than 80% in late April when a whale sold $8.5 million's worth of it.
#SafeMoon is one of the most obvious Ponzi Schemes on the market.

The creator of this coin owns 95% of the supply. Today, he sold $8.5M (5%) and the price crashed 84%

Imagine what happens when he sells the rest? It goes to zero… pic.twitter.com/1ligCdluQm

— Mr. Whale (@CryptoWhale) April 22, 2021
Smaller holders will never be able to predict when a larger holder is going to sell. This arguably makes holding SAFEMOON tantamount to gambling.
8. SafeMoon is hard to buy and sell
SafeMoon isn't really listed anywhere. Right now, the only place you can really trade it is on PancakeSwap, a decentralized exchange on Binance Smart Chain. Traders therefore need to go through a relatively involved process to get their hands on it. They need to create a Binance account, buy Binance coin (BNB), swap BNB for SAFEMOON, download a wallet such as MetaMask, and also enable such a wallet to work with BSC.
With major exchanges such as Coinbase and Kraken steering clear of SAFEMOON, traders have to work quite hard to acquire the coin. But with few outlets to buy and sell it, it further worsens its problems with low liquidity.
9. SafeMoon's team appear reluctant to answer hard questions
Back in late April, some members of SafeMoon's team participated in an Ask Me Anything (AMA) at the Miami Crypto Experience. The thing is, they didn't really answer any relevant questions, instead choosing mostly to speak with guests about unrelated topics. This didn't create a good impression, and the coin promptly fell shortly after.
Such an appearance arguably fits in with the lack of detail on SafeMoon's website and in its so-called whitepaper. There seems to be an avoidance of accountability and transparency, something which could potentially ring alarm bells.
10. It is well below its all-time high
SafeMoon has fallen much further from its recent all-time high than major cryptos such as bitcoin, ethereum and Binance coin. It's now down by just over 61% from its ATH, according to CoinGecko. By contrast, bitcoin, ethereum and BNB are down 42%, 38% and 44% from their respective ATHs.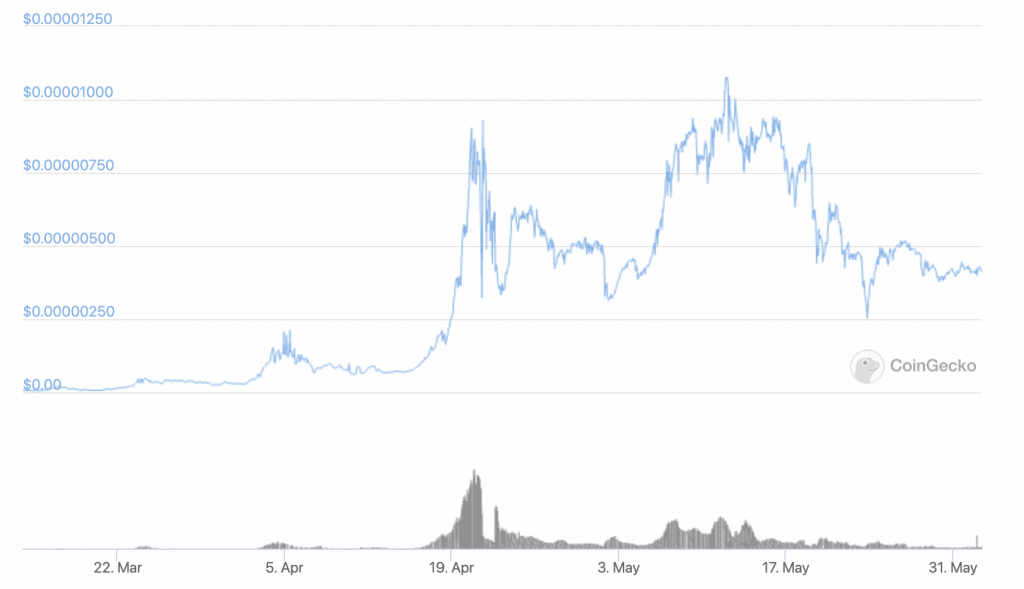 When the coin falls, it falls hard. This should be another warning sign for investors. Because even if it appears to offer big short-term gains at the moment, it also offers big losses.
Get Free Crypto Signals for SafeMoon (SAFE) and Other Crypto– 82% Win Rate!
3 Free Crypto Signals Every Week – Full Technical Analysis