El Salvador's congress has approved the adoption of bitcoin as legal tender. It will likely take 90 days before the new system is up and running but it is big news as far as bitcoin's original use case as a means of payment goes. Bitcoin has jumped 16% in the past 24 hours on the news to currently trade at $36,400.
Undoubtedly as an object of speculation bitcoin has been a success and even as a store of value despite its famed volatility. But where it has struggled is in the realm of payments, with only a tiny number of transaction volumes accounted for by consumers or businesses using it to buy goods and services.
A number of companies in several industries have attempted to adopt bitcoin for payments at various times but without much traction.
So it is against this background that the full import of El Salvador adopting Bitcoin as a legal tender in the country should be measured. The implications could be truly seismic if more countries follow in El Salvador's wake.
El Salvador Announces Bitcoin Adoption
During the Bitcoin 2021 conference held in Miami from June 4th to 5th 2021, El Salvador President Nayib Bukele announced his intentions to adopt Bitcoin as a legal tender in his country.
The conference recorded 12,000 attendees, plus many famous speakers such as the CEO of Square, Jack Dorsey, Ron Paul, a former congressman, and Brian Brooks, the CEO of Binance. Also in the conference were Floyd Mayweather, the famous boxer, the founders of Gemini, Tyler, and Cameroon Winklevoss.
Before the event closed, El Salvador President Nayib Bukele made the market-moving announcement via a video link, revealing that the country will soon use Bitcoin as a legal tender.
How Will El Salvador Benefit from Bitcoin Adoption
President Nayib believes that Bitcoin adoption in the country will generate new jobs. He also pointed out that the move will boost financial inclusion for its many citizens that are not operating in the formal economy.
The El Salvador president later pointed out in a tweet that investing 1% of bitcoin's market cap in the country will be mutually beneficial.
Such investments will bring a 25% increase in the country's GDP and introduce 10 million new users to the Bitcoin network. President Nayib also noted that the move would also help to transfer a yearly remittance of 6 billion dollars.
#Bitcoin has a market cap of $680 billion dollars.

If 1% of it is invested in El Salvador, that would increase our GDP by 25%.

On the other side, #Bitcoin will have 10 million potential new users and the fastest growing way to transfer 6 billion dollars a year in remittances.

— Nayib Bukele (@nayibbukele) June 6, 2021
President Nayib believes that intermediaries in the financial systems bag a significant amount of 6 billion dollars. So, by adopting Bitcoin that requires no intermediation in transactions, low-income families will earn more every year. By that, their standard of living will notably improve.
Also, since 70% of El Salvador citizens don't have bank accounts, this adoption will provide a secure way to transact and access investments, credit, and savings.
El Salvador is a very small country in Central America. The country uses the United States dollar for its transactions. Also, the economy is boosted mainly through remittances which accounts for 23% of its economic output as seen in 2020.
However, sending these remittances usually attracts high fees for the country. That's why the President is pushing for Bitcoin adoption because it will lower ensure cheaper and faster international money transfers.
Also, transacting in crypto doesn't require intermediaries who President Nayib believes makes more from remittance fees.
The Bill for the Bitcoin adoption received a supermajority vote. During the vote, 62 people in congress voted in support of the bill, while 22 voted against it. By getting the supermajority votes, the bill won the vote.
The #BitcoinLaw has been approved by a supermajority in the Salvadoran Congress.

62 out of 84 votes!

History! #Btc

— Nayib Bukele (@nayibbukele) June 9, 2021
According to the law, Bitcoin will be used as a legal tender without restrictions in El Salvador. Also, vendors can show the prices of goods and services in Bitcoin.
Also, citizens can pay their taxes in bitcoin, but exchanges made with the currency will not attract capital gain tax. There were also some statements in the law about training the citizens about how Bitcoin works.
Following El Salvador's Bitcoin adoption, many Latin American Countries are considering using crypto as a legal tender. Some countries considering the virtual currency include Paraguay, Panama, Brazil, Mexico, and Argentina.
Other Countries Show Interest in Bitcoin Following El Salvador
Tyler Winklevoss posted a tweet on Twitter with a list of Countries showing interest in Bitcoin, the tweet reads:
First they ignore you, then suddenly Paraguay , and Nicaragua embrace #Bitcoin

— Tyler Winklevoss (@tyler) June 8, 2021
Paraguay
A politician in Paraguay, Congressman Carlitos Rajala, has expressed interest in Bitcoin adoption. In a tweet with laser eyes pictures, Rajala implored the nation to join the new generation to advance and bring innovation to Paraguay.
Como ya lo decía hace un buen tiempo, nuestro país necesita avanzar de la mano de la nueva generación.
Llegó el momento, nuestro momento.
Esta semana empezamos con un proyecto importante para innovar a Paraguay frente al mundo!

El verdadero to the moon #btc & #paypal pic.twitter.com/ZMRJgAIxgO

— Carlitos Rejala (@carlitosrejala) June 7, 2021
Panama
Another politician in Panama tweeted with the same laser eyes picture about his plans to send a proposal about using Bitcoin as a legal tender just like El Salvador has done.
Esto es importante. Y Panamá no se puede quedar atrás. Si queremos ser un verdadero hub de tecnología y emprendimiento tenemos que apoyar las criptomonedas

Estaremos preparando una propuesta para presentar en la Asamblea. Si están interesados en construirla me pueden contactarte https://t.co/yiAzPpD9nj

— Gabriel Silva (@gabrielsilva8_7) June 7, 2021
According to Congressman Gabriel Silva, the city of Panama won't lag behind in terms of technology & entrepreneurship. As such, they must support crypto.
Brazil
Two prominent Politicians in Brazil also shared pictures with laser eyes on Twitter, showing their support for the ongoing Bitcoin adoption in Latin America. The state deputy of Rio Grande do Sul Brazil, Fabio Ostermann joined the race with posting a new image.
#LaserEyes #LaserEyesTill100k #NovaFotoDoPerfil pic.twitter.com/tbxThxh5Ps

— Fábio Ostermann (@FabioOstermann) June 7, 2021
Following Ostermann, another State Deputy of Brazil, Gilson Marques posted the photo with a caption of #bitcoin and #tothemoon.
#NovaFotoDoPerfil #NewProfilePic #Bitcoin #ToTheMoon pic.twitter.com/ai1ILHdShz

— Gilson Marques (@gilson__marques) June 7, 2021
Mexico
From Mexico, Senator Indira Kemps followed with the laser eyes symbol and also shared a few posts about Bitcoin as a support for the new trend.
https://t.co/h5iJ24TmNw pic.twitter.com/pBKVLDp7E9

— Indira Kempis de I. (@IndiraKempis) June 8, 2021
Kemps also retweeted a post that Tyler Winklevoss made about the sudden interest in Bitcoin.
Argentina
An Argentina Politician in Neuquen, Francisco Sanchez, also tweeted his support for what's happening with the same laser eyes.
#NuevaFotoDePerfil pic.twitter.com/zqftvmKRfB

— Francisco Sánchez (@fsancheznqn) June 7, 2021
Nobody can say that all these countries will soon adopt Bitcoin as a legal tender. El Salvador has started the trend, and there may be a positive result from it. The sudden interest in Bitcoin may be the result of inflation fears and overreliance on the United States Dollars.
Also, most of these countries may consider Bitcoin adoption to facilitate tech entrepreneurship in their respective countries.
What does this mean for Bitcoin Investors – Buy BTC Now?
Bitcoin is popular for price volatility. Earlier this year, the crypto went above $63,000 but later plunged to half of the price. After El Salvador's announcement, Bitcoin gained a 5% increase reflecting the price of $35,700.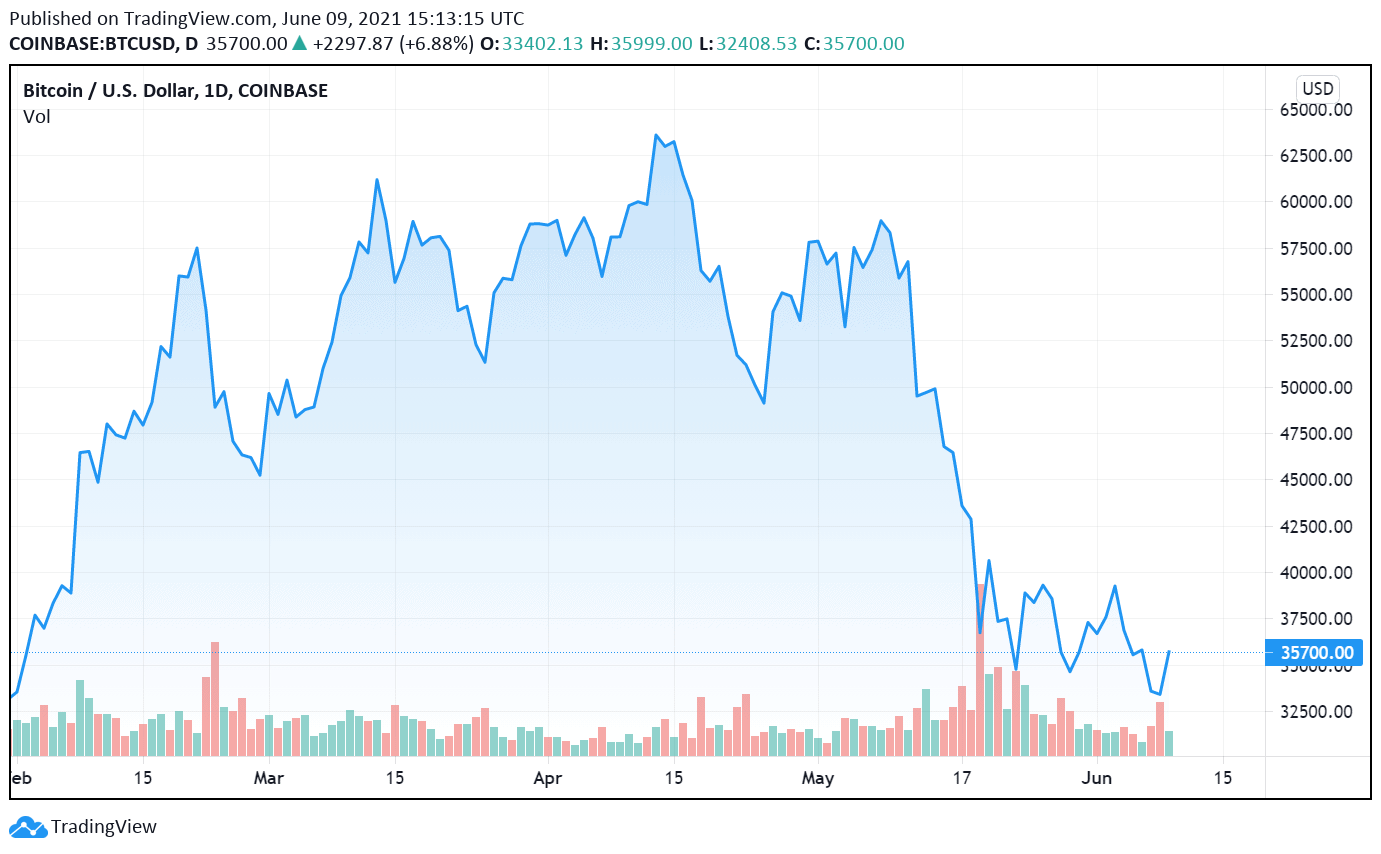 The crypto community is enthusiastic about the recent development, given the volatility that has followed Elon Musk's tweets in recent times. This announcement is like a light for Bitcoin out of the darkness. There's hope that Bitcoin price will see a bullish trend if more large-scale adoption continues.
Moreover, there has been a lot of inflation worries all over the world. In the USA, financial regulators are expressing concerns over the increasing rate of inflation in the country.
While they're struggling to maintain a 2% increase, there's a possibility that many countries are already experiencing higher inflation levels.
With all these concerns, speculators wonder whether more investors and savers will rush to Bitcoin as a hedge for the growing inflation. Since the US dollars that many people depended on are now susceptible to inflation, it is now clear that the next option is Bitcoin.
eToro's Peters: Bitcoin is crypto gold
According to Simon Peters, an analyst in eToro, people in time past depended on gold as a hedge against inflation. But it seems that gold is now outdated and replaced by bitcoin, which many believe to be the "crypto gold." Peters believes that more and more investors will rush to Bitcoin if inflation rises above 2%.
Also, Simon Peters believes amid other opposing views that the younger generation is more interested in exploring technology than traditional systems. As such, they may likely prefer what he calls a "true free-market economy," which only crypto adoption can bring.
So, there is hope that as market forces push investors towards the crypto gold for a hedge against inflation, crypto recognition and adoption will increase. Also, the prices of cryptocurrencies will climb with time.
Apart from inflation, another issue that will push for more Bitcoin adoption is the high cost of financial transactions in the traditional systems. According to President Nayib, adopting Bitcoin as a legal tender will reduce the fees of international money transfers.
Bitcoin transactions occur in seconds and attract low transaction fees. So, it's likely that this aspect will drive more country's to consider the benefits of reducing such fees and simplifying transactions through Bitcoin.
Looking to buy or trade Bitcoin (BTC) now? Invest at eToro!
75% of retail investor accounts lose money when trading CFDs with this provider