Bitcoin price has continued its climb as it aims to crawl out of the hole dug by May's downturn, helped by El Salvador going all in on the virtual currency and the Basle Committee banking regulator endorsing crypto as an asset class, albeit a very risky one.
As we all recall, the past month was a bit of a downer for bitcoin as the asset's value dropped by almost 50 percent.
While Bitcoin has bottomed out and is rising, there is still skepticism from people looking to buy Bitcoin. BTC's price hasn't exactly fared well since the downturn, and it has failed to cross $40,000 for the past month now. Several efforts to cross the mark have been made, but the bears have maintained control of the market.
Despite this, the current week kickstarts what many believe to be a recovery period. Bitcoin holds a current price peg of $36,418, and it briefly crossed $37,000 earlier today.
Bitcoin Price Analysis
For now, the bears definitely control the market. That fact is evident since Bitcoin has been unable to cross $40,000 for a month.
June 7 was an especially challenging day for the leading cryptocurrency. The Bitcoin price dropped below $31,000 on more, halting a rally that had been building since the month began. However, the June 8 candlestick showed a long tail, indicating that bulls bought the dip.
With the asset's price now on the uptrend once more, it is worth noting that Bitcoin isn't out of the woods yet. For one, it is expected to face some resistance at the 20-day exponential moving average (EMA), which currently stands at $37,925. If the Bitcoin price turners down from this trendline, it will indicate that those who chose to buy Bitcoin haven't had as much momentum. Increased bear pressure could push the asset back as low as $31,000.
However, Bitcoin's Relative Strength Index (RSI) has formed a bullish divergence, showing a weakening bearish momentum. For now, traders will be wager to watch if the asset breaks out of the 20-day EMA. From there, Bitcoin could move quickly towards its 50-day simple moving average (SMA) of $45,896.
El Salvador's Bitcoin Milestone
This week, Nayib Bukele, the President of El Salvador, confirmed that his bill to legalize Bitcoin as legal tender in the country had passed. The bill, which will make it legal for businesses and government agencies to accept Bitcoin in the country, will be signed before this week ends.
Bukele added that his government would be meeting with the International Monetary Fund (IMF) today. They will also be looking to launch an official Bitcoin wallet.
Bukele also said that he had instructed Mynor Gil, the president of the state-owned electrical company LaGeo, to work on affordable and renewable Bitcoin mining. The mining operations will be powered by volcanoes, of which the country has several.
The news is especially impressive, with discussions raging over the past month about Bitcoin's environmental impact.
China's Crypto Crackdown
Of course, there is always the bad with the good. There have been several unwelcoming developments in the crypto space, many of which have fueled panic and prevented those who want to buy Bitcoin.
Most prominent is the current crackdown on cryptocurrencies in China. The Asian superpower has never been a crypto fan, and Beijing had cracked down on digital assets in the past. However, this year's crackdown has hit an area previously unaffected – mining.
Last month, it was reported that Chinese government officials had introduced draft rules to impose stricter punishments on anyone caught mining Bitcoin or any other cryptocurrency. The punishments would include placing offenders on a social credit blacklist, stopping them from getting loans, and using the public transportation system.
Weibo, one of China's biggest social media platforms, also shut down the accounts of at least a dozen crypto influencers.
Despite the mining ban, several firms seem to be working on workarounds. Three Bitcoin mining firms – BTC.TOP, Huobi, and HashCow – have announced their exit from mainland China. They would most likely move most of their operations to other countries, with North America and Eastern Europe being ripe locations for the burgeoning Bitcoin mining space.
JPMorgan Sends Bitcoin Price Bearish Signals
Another fundamental problem comes in the form of dwindling Bitcoin futures metrics. This week, JPMorgan global market analyst Nikolaus Panigirtzoglou wrote in an investor note that the Bitcoin market has returned to backwardation – a situation where spot prices exceed futures prices.
As Panigirtzoglou explained, the situation was caused by May's crackdown. This would be the first backwardation since 2018, when Bitcoin retreated from its previous all-time high of $20,000. This could be a negative sign for the asset even despite the current rebound.
The analyst also pointed out that Bitcoins weakened share of the total crypto market is a concerning trend. Bitcoin dominance fell to 40 percent in May, marking the lowest share in three years. The metric currently stands at 43 percent, with Bitcoin's $682 billion market cap just a fraction of the total $1.6 trillion market cap.
Tesla Selling Bitcoin?
Rumors have also circulated that carmaker Tesla might be selling Bitcoin. The auto giant purchased $1.5 billion in February, adding that it would allow customers to buy vehicles with the leading cryptocurrency. The announcement sent the Bitcoin price up, crossing $50,000 for the first time.
However, Tesla's relationship with Bitcoin turned sour when CEO Elon Musk announced that they would stop Bitcoin payments over the asset's environmental impact. Now, Bloomberg reported that the company could sell its Bitcoin hoard.
The report pointed out that Tesla is still running behind sales estimates, despite encouraging numbers from China. Tesla needs to sell almost 36,000 vehicles this month to match Q1 sales numbers. With deliverables not matching up and delays to the company's Model S "Plaid" version, Tesla could have a tricky run up to its Q2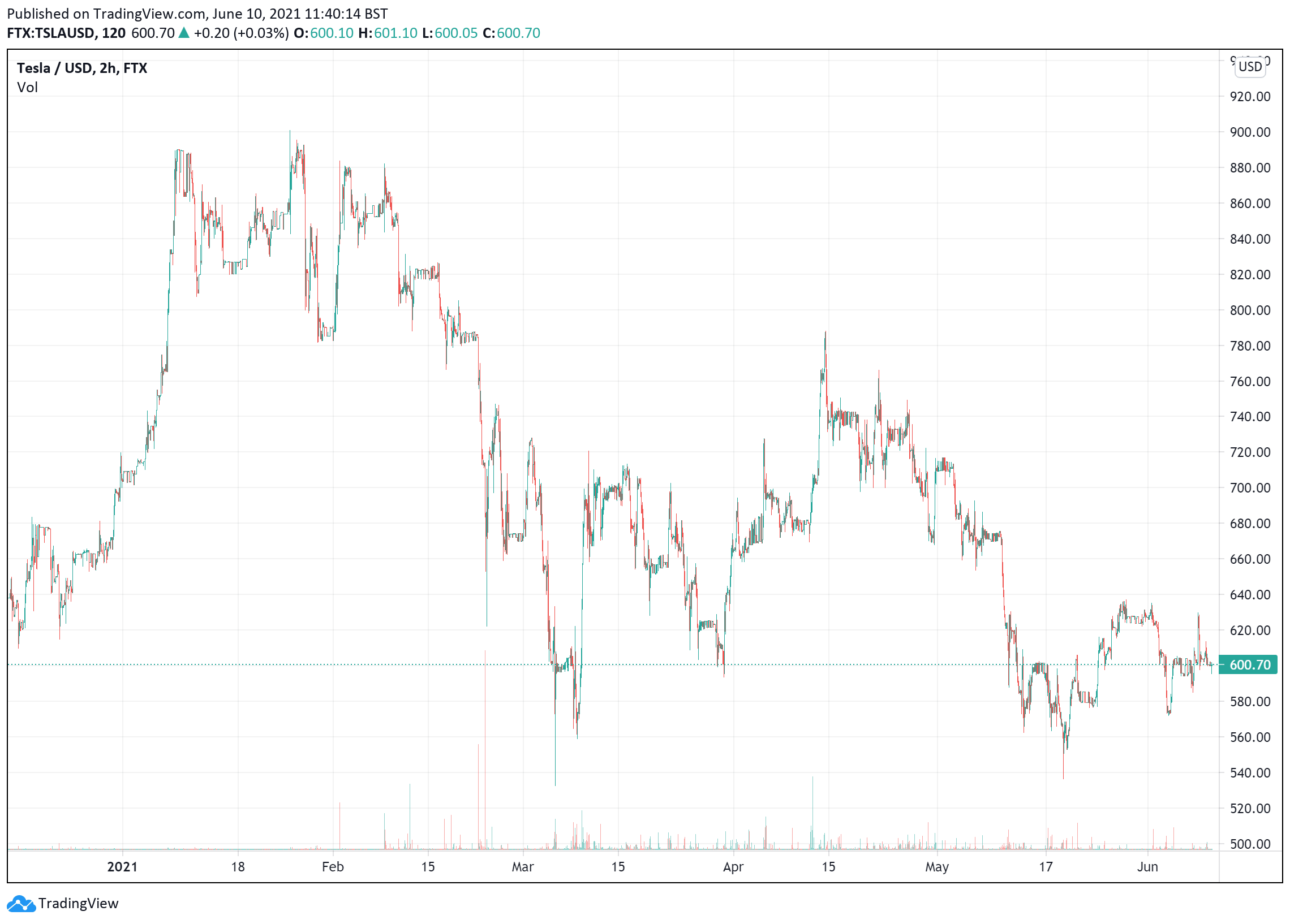 TSLA has been on the decline for the past three months, dropping from $889.55 in January and barely holding on to the $600 support as it is. A drop in deliverables and an inability to meet sales expectations by June's end could be fatal.
To wit, a Bitcoin sale could be possible. The Bitcoin price had fallen below its point when Tesla bought the asset' and accounting rules could compel the firm to sell the asset and book a loss. But, this is speculative, and Tesla would earn more by keeping their Bitcoin than selling for a loss.
Looking to buy or trade Bitcoin (BTC) now? Invest at eToro!
75% of retail investor accounts lose money when trading CFDs with this provider