Here's 5 cryptocurrencies to buy in this slump that will keep your portfolio in the green. The cryptocurrency market has witnessed a deep pullback in the past month, with bitcoin off 50% from its all-time high of $64,000.
The market is still in a significant bear market, and anyone looking for the best cryptocurrencies to buy needs to be careful.
While the bulls are looking to take the market back, it is evident that the bears are still firmly in control. However, this also presents an opportunity for investors. Market slumps are a great time to buy the dip, and we've got a list of some of the cryptocurrencies you can buy below. These assets have been chosen for their market resilience and strong fundamentals.
We recommend dollar-cost averaging into the market through buying relatively small amounts but often, say every two weeks or monthly. This way you smooth out the volatility. You could even buy a larger portion when you think the market is nearer its bottom, like now perhaps.
Take a look at our 5 cryptocurrencies to buy right now:
1. Bitcoin (BTC)
Bitcoin kicks off our list of 5 cryptocurrencies to buy. It is by far the most valuable cryptocurrency, and movements in its price tend to determine the fate of other assets.
In truth, Bitcoin has been on a lengthy bearish trend for the past month. The asset is currently trading at $32,871 – down 9 percent in the past 24 hours. This is a bit higher than the asset's bottom of about $28,000, which it hit last month. Bitcoin has been fighting to climb above the $40,000 mark for the past two weeks. While it is unable to do that just yet, its susceptibility to sporadic moves makes it an attractive asset to hold.
2. Binance Coin (BNB)
The native token for Binance, BNB, has done an incredible job in 2021 already.  It's one of the top cryptocurrencies to buy right now. The asset entered the year trading at $38.21, and its value has shot up since. BNB hit an all-time high of $691 last month- just a few days before the bear market came into effect. In less than a week, the asset lost over 50 percent of its value and bottomed out at $215. Since then, however, BNB has done pretty well to pick itself up.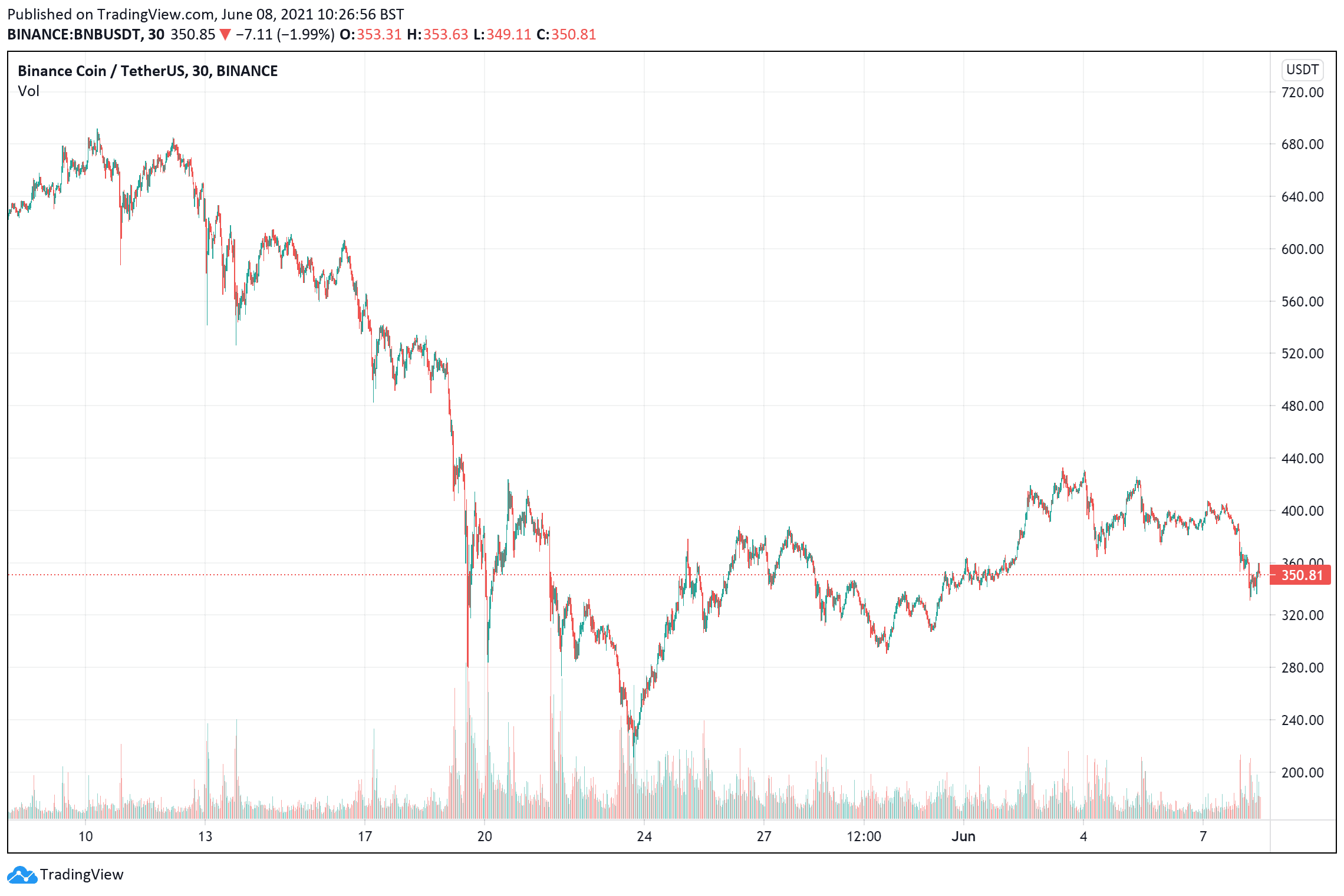 The asset's value has jumped as high as $421, although it is currently trading at $351. BNB gets its value from several things – to offset transaction fees on the Binance exchange, asset transfers, and run smart contracts on the Binance Smart Chain (BSC). The BSC is seen by many as a top alternative to Ethereum for decentralized finance (DeFi), and transactions on the blockchain have been surging. So BNB has strong fundamentals overall.
3. Polygon (MATIC)
MATIC is the native token for Polygon – a multichain scaling solution built on the Ethereum blockchain. The asset features on our list of the best cryptocurrencies to buy primarily because of its performance amid the market downturn. While most top cryptocurrencies saw their prices plunge, MATIC managed to weather through pretty well. In fact, its value hit an all-time high of $2.6 on May 18, while other assets were seeing double-digit slumps.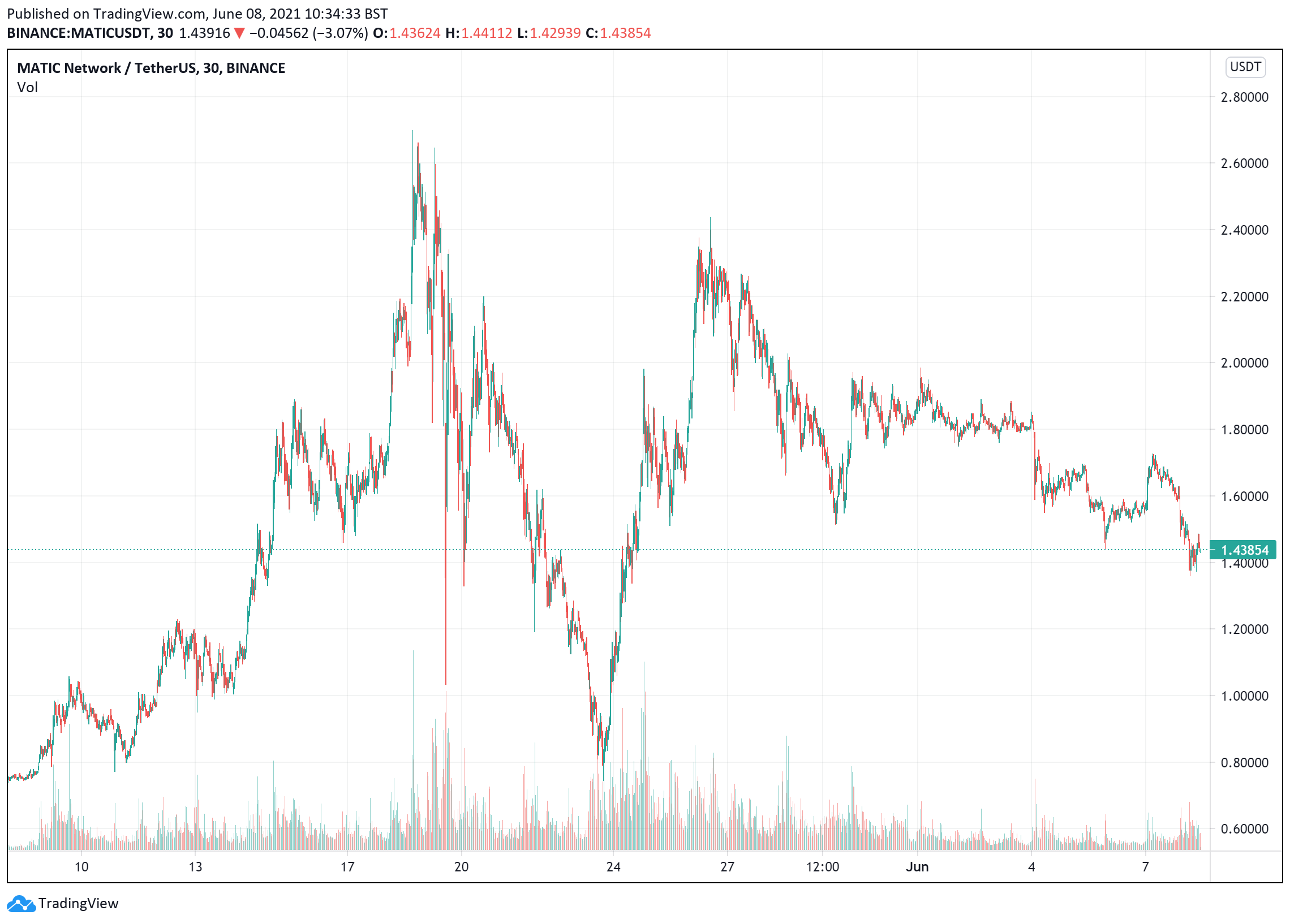 Of course, the market eventually caught up to the asset and it dropped as low as $0.76. However, MATIC's recovery is already on the move, and it has risen back as high as $1.7 – save for today's 13 percent drop that took it back to $1.44. MATIC is definitely an asset worth exploring.
4. Yearn.Finance (YFI)
YFI is a top DeFi token that earns a place on our list of best cryptocurrencies to buy right now due to its historical performance. The token is native to Yearn Finance – a yield farming project that helps users maximize their returns in the DeFi space. Its price has tumbled pretty hard, with YFI dropping from an all-time high of $94,612 on May 12 to a low of $25,505 on May 23. It is currently priced at $38,949.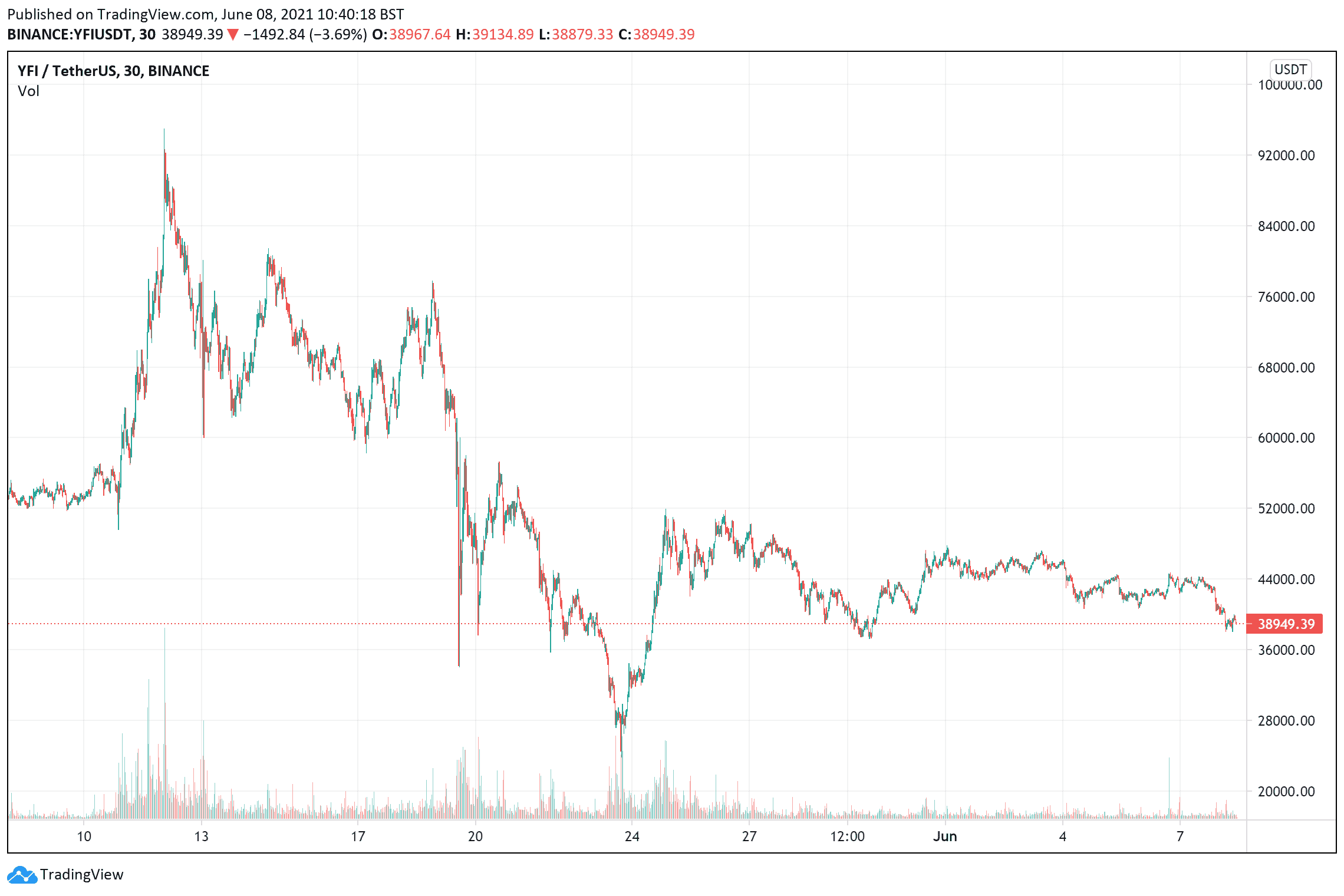 Among other things, YFI is valuable because of its scarcity. The asset has a hard cap of 30,000 tokens – although a proposal was introduced earlier this year to mint 6,666 more tokens. Like Bitcoin, YFI is susceptible to sporadic moves. So, investors will be anticipating big gains once the market slump is done.
5. Aave (AAVE)
Rounding out our list of the best cryptocurrencies to buy is AAVE -the native token for DeFi lending platform Aave. Aave recently took back its palace as the leading DeFi protocol, crossing $20 billion in total assets locked. To put that in perspective, total assets locked in DeFi are valued at $60 billion. With such considerable dominance, Aave is setting up for bigger gains.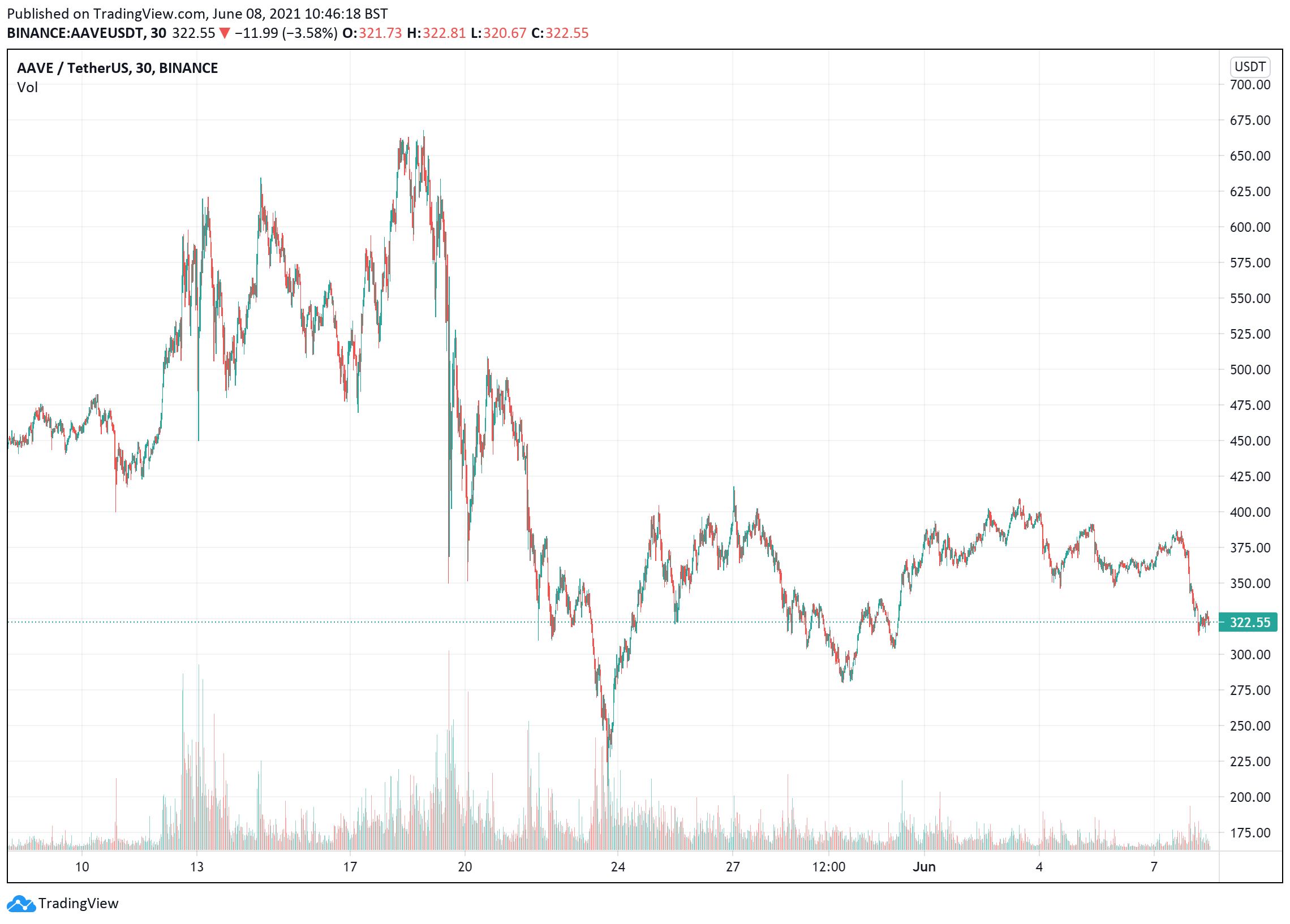 As for the token, there is some work to be done to regain the $663 high it reached last month. It already jumped by 54.8 percent from the $208 bottom, currently sitting at $322.55. As the market recovers, Aave's standing in the DeFi sector will most likely help AAVE.
Looking to buy or trade Aave (AAVE) now? Invest at eToro!
75% of retail investor accounts lose money when trading CFDs with this provider