We reveal the 3 cryptocurrencies to buy  that showed striking outperformance in yesterday's (Tuesday 8th June) bearish market action.
The cryptocurrency industry has suffered some significant setbacks, especially since May's market downturn. Market prices are still struggling to climb their way back, and anyone trying to invest in crypto might be having second guesses.
Several factors – including Tesla's decision to stop accepting Bitcoin payments and the rising crackdown in China – have led to a drop in markets across the board. Crypto seems to have felt it worse this time. The entire market has lost over 25 percent of its value, and large-cap assets bled throughout last month. It was almost impossible to get any cryptocurrencies to buy at a good price.
While crypto enthusiasts have been touting the market's ability to rise from this dip, it is unclear where the bottom is. There have been efforts to bring asset prices above several comfort points, but the bears remain in control of the market and it is proving difficult to shake off their influence on prices for now.
Despite this, some assets have been strongly in the green on the back of solid fundamentals and could be looking to make even bigger moves soon. They might not be large-cap cryptos, but the following cryptocurrencies have enough liquidity and price action to attract momentum traders. Anyone looking to invest in crypto will want to consider them. We recommend dollar-cost averaging into the market at this point.
1. Solana (SOL)
Kicking off our list of the best cryptocurrencies to buy is Solana. Solana is a high-performance blockchain that launched last May. It has risen to be one of the most popular blockchain platforms, especially for developers in the decentralized finance (DeFi) space. With gas prices rising on the Ethereum blockchain, Solana provides suitable alternatives for protocol developers to launch their work.
Solana also supports decentralized app (dApp) developers, allowing them to work without encountering any performance hiccups. Its native token, SOL, is used to pay gas fees and also trade. SOL launched for $0.77 last May, and it rose from $1.8 at the turn of the year to currently stand at $42.34.
In May, SOL dropped from its all-time high of $58.84 and bottomed out at $19.19. Now that the asset seems to be regaining its all-time high, SOL could easily break out.
Solana itself is doing pretty well. The developers are working on expanding their footprint, and they recently teamed up with Hong Kong-based ROK Capital to launch the $20 million Solana Eco Fund. The fund will power Solana's expansion into Korea and provide tailored services to projects launching on the blockchain.
Earlier this week, Solana Labs also raised $314 million in a private token sale. The sale, which was led by Andreessen Horowitz and Polychain Capital, is one of the year's largest private sales yet.
2. Theta Fuel (TFUEL)
Theta Fuel is one of those cryptocurrencies you never hear about. However, anyone looking to invest in crypto might want to keep an eye on it. It's #2 on our list of the top cryptocurrencies to buy now.
Here, you have the native token for the Theta Network – a video delivery network powered by blockchain. Theta allows users to watch video content and earn tokens for sharing these videos with their other users. Users opt-in by volunteering their bandwidth and compute power to relay videos to others, and they earn rewards for their work.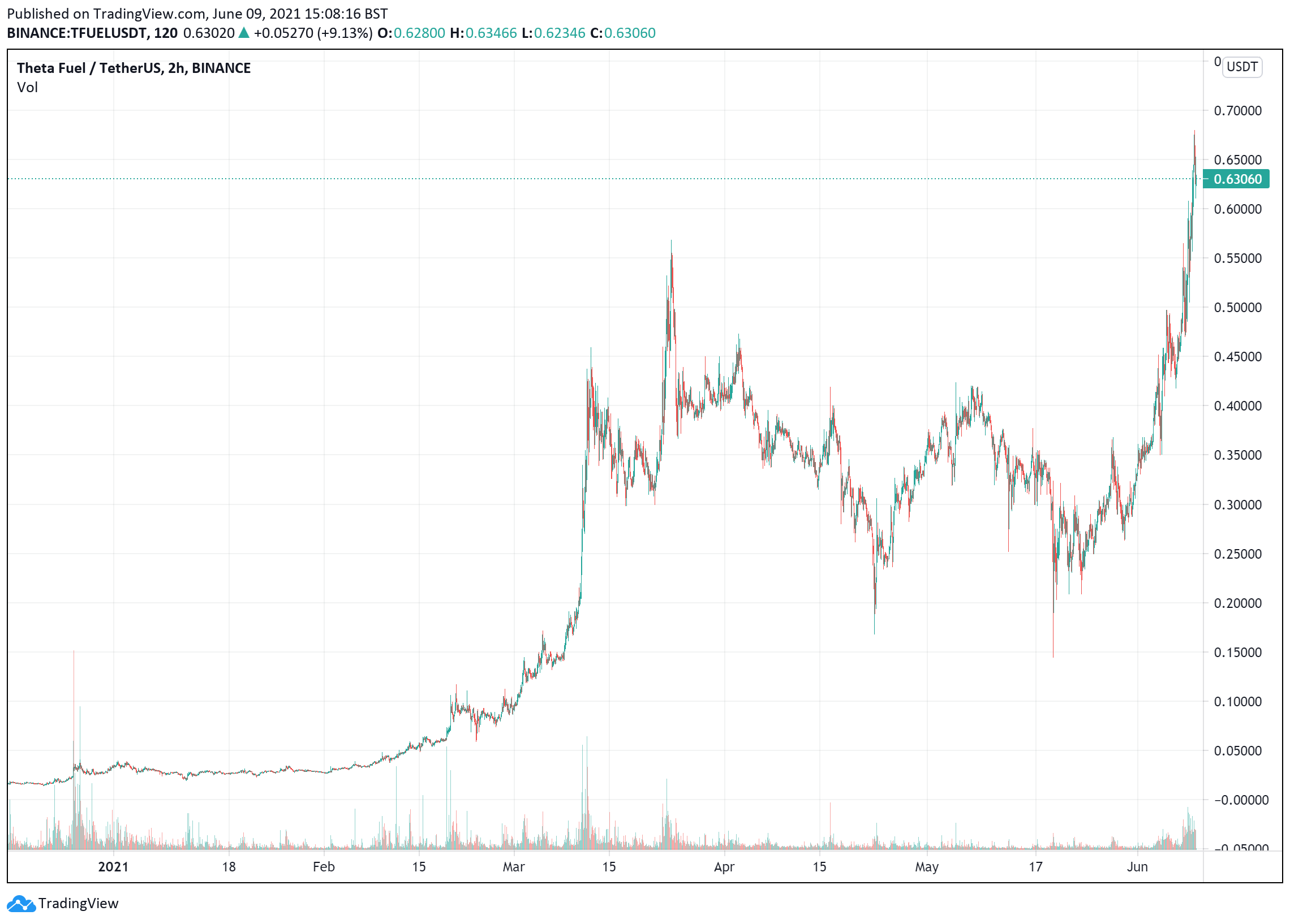 TFUEL launched in June, with a launch price of $0.016. It had tripled its price by the end of the year, starting 2021 at $0.03349. Since then, it has risen more than 1,000 percent. TFUEL dipped before other assets did, moving from $0.562 on March 24 to $0.17057 on April 22. May's downturn halted its recovery, as the asset which already hit $0.42 retreated to another bottom of $0.143 on May 19.
Since then, it's been consolidation. TFUEL is now trading at $0.625 – only a few ways off its all-time high of $0.65 With the Theta Network mainnet launch edging ever closer, TFUEL looks set for even more highs.
3. Kusama (KSM)
Kusma is a blockchain network developed by Polkadot. While it's yet to fully launch, it has gained a great deal of popularity among users. Kusama works with parachains – essentially, blockchains that run side by side. The goal is to optimize transaction speed and reduce costs.
KSM, Kusama's native token, will be used to effect transactions and pay fees. With the blockchain also working on interoperability with other chains, there is a significant upside for it already. This token joins the list of cryptocurrencies to buy now.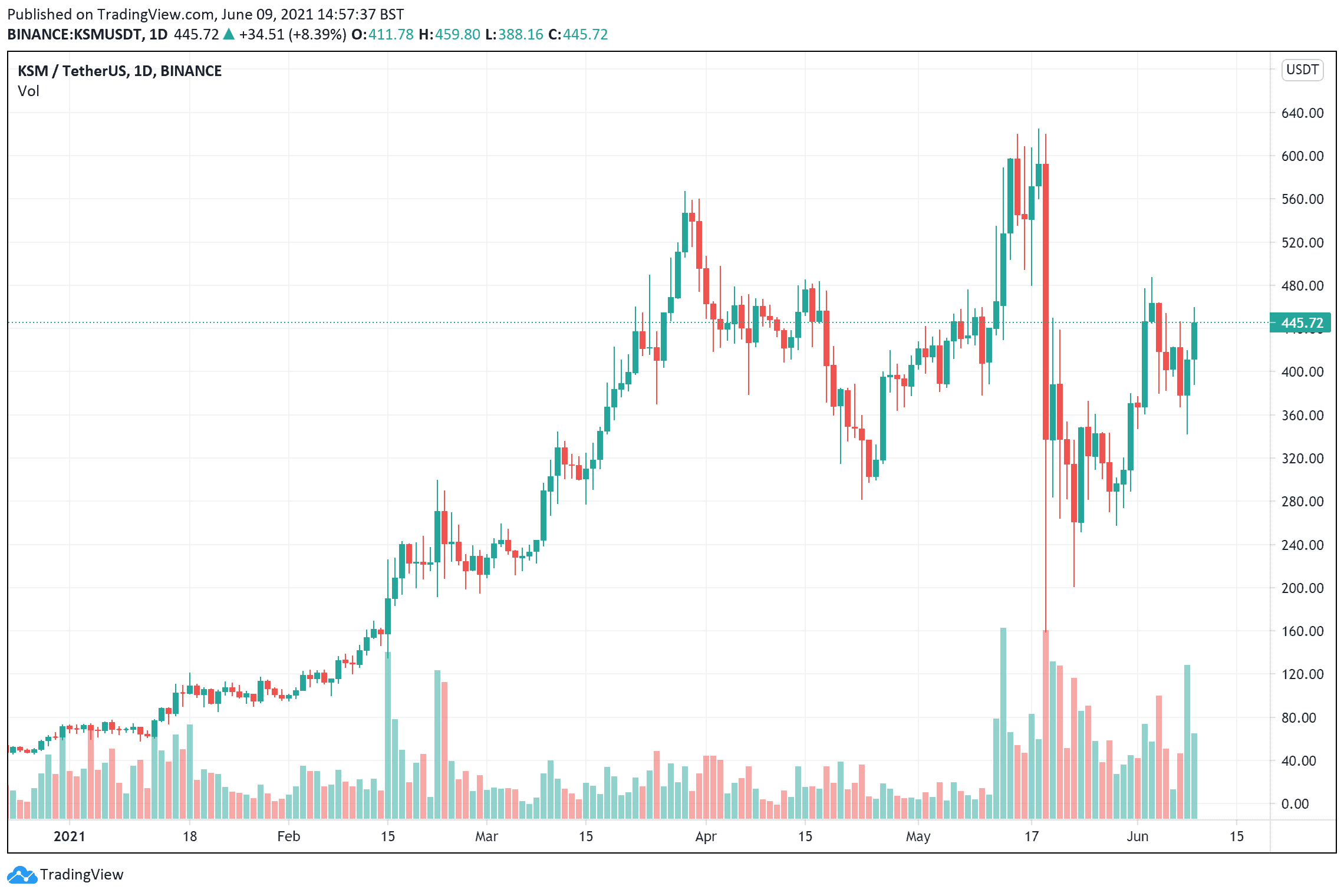 KSM started 2021 trading at $61.85, and it hit a new high of $620.84 on May 18 – while other large-cap assets took a beating. While KSM eventually dropped and bottomed out at $161.19. On May 20, it has since gained. The asset's price of $445.42 is a 176.33 percent increase from May's bottom. With these highs, KSM looks to be setting up to retest its all-time high. Recent news also shows that things are looking up.
Over the past few months, Kusama has been on a significant development trend. In May, the network's development team announced that they would upgrade its first common good parachain- called Shell- to Statemine. Developers usually use Shell to run functionality tests on Kusama. However, the upgrade will allow the chain to support several new functions.
On the same day, Master Ventures, an Asian venture capital firm, announced a $30 million fund that would support blockchain projects built on Kusama and Polkadot. This will spur more adoption for the blockchain – and KSM.
This week, top U.S.-based exchange Kraken launched parachain auction slots for Kusama. The platform will enable users to pledge support for Kusama projects looking to get parachain slots.
Looking to buy or trade Crypto now? Invest at eToro!
75% of retail investor accounts lose money when trading CFDs with this provider